Get Your Mojo Back Book
Designed as a depression recovery handbook and revised as a revolutionary identity reconfiguration system, Get Your Mojo Back is a life-saving self-understanding resource.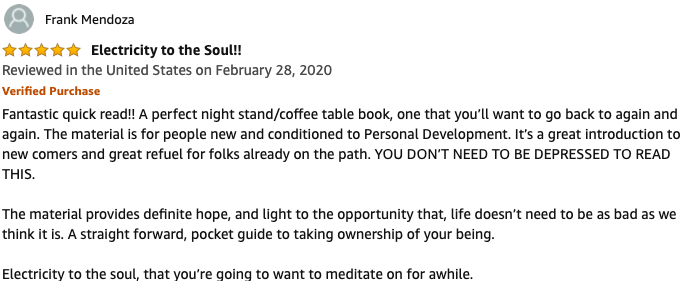 To give additional support, please just follow @antpstyle and @wearegodxp on Twitter, Instagram, and Facebook.
Anthony Polanco is a music artist, digital marketer, writer, and former missionary. He is the founder of GodXP, a personal development company. 
Don't Die Sad. Die Happy!
People will let you die. Nature will let you die. The Universe will let you die. Natural Selection is still at play. The mind kills more of us today than bullet and sword. Before you check out for good, get your affairs in order. This is the perfect handbook for you to die smiling.
Mental Fitness Trainer.
Physical trainers develop your body. Mental coaches and teachers develop the mind. But what about spiritual fitness? Let this book be your spiritual fitness coach.
What if your life was a video game?
What if today is the day?
What if your life's movie starts today?
This is your guide to redefining the narrative of your life. Not just the narrative, but your character's principles, values, superpowers, and even your side quests.

A Guide for Guiding YOURSELF.
Written by a former Christian missionary and music artist with several near-death, transcendental life experiences who then dedicated his life to helping people recover from depression. Hear how he found his way from years of crippling depression and suicide ideation to running a digital marketing business, competing in brazilian jiu-jitsu, and teaching meditation.
What If Your Life Was A Movie?
What if today is the day?
Product functions
Place your product function here

Place your product function here

Place your product function here

Place your product function here
Competitive advantage
Let's show specification, advantage or difference of your product inform a short paragraph, combine them with real-life image to convince people buy your product
Get it now !
Short review to show how customer satisfied with your product
Marry Reighard - New York
Short review to show how customer satisfied with your product
Post Malone - New York
Short review to show how customer satisfied with your product
Swae Lee - New York
Worldwide Shipping
Highlight key information to make people quickly impressed by service
Money Back Guarantee
Highlight key information to make people quickly impressed by service
Support 24/7
Highlight key information to make people quickly impressed by service
Frequency Bought Together